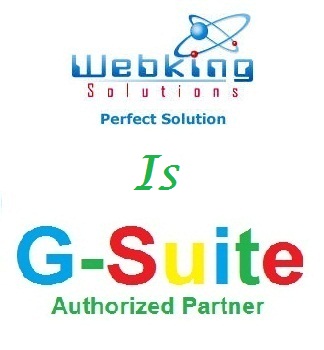 About Webking Solutions
Webking Solutions TM is web solutions studio located in Ahmedabad, Gujarat which offers helping hand to small to large corporate companies, offshore and local to develop their business across the world by providing service of G Suite . Webking SolutionsTM provides creative information technology solution since 2008. We believe that in today's high competitive world, web marketing can be effective way of marketing and growing your business world wide.
Our Services :
Webking Solutions TM provides G Suite services since last 4 year. Webking SolutionsTM is the G suite partner in India which offers you service of your business mail with cloud storage. We have experience of 50+ G Suite integrations. Dedicated team of Webking SolutionsTM helps you grow your business fast and in efficient way across the world. G Suite support team gives thorough knowledge of G Suite services like gmail, Admin, Calendars, Hangout for video and voice calling. Google provide 30GB Storage initially, we can help you to get additional storage.
Reseller G Suite | Find G Suite Reseller | Authorized G Suite Reseller | G suite for resellers